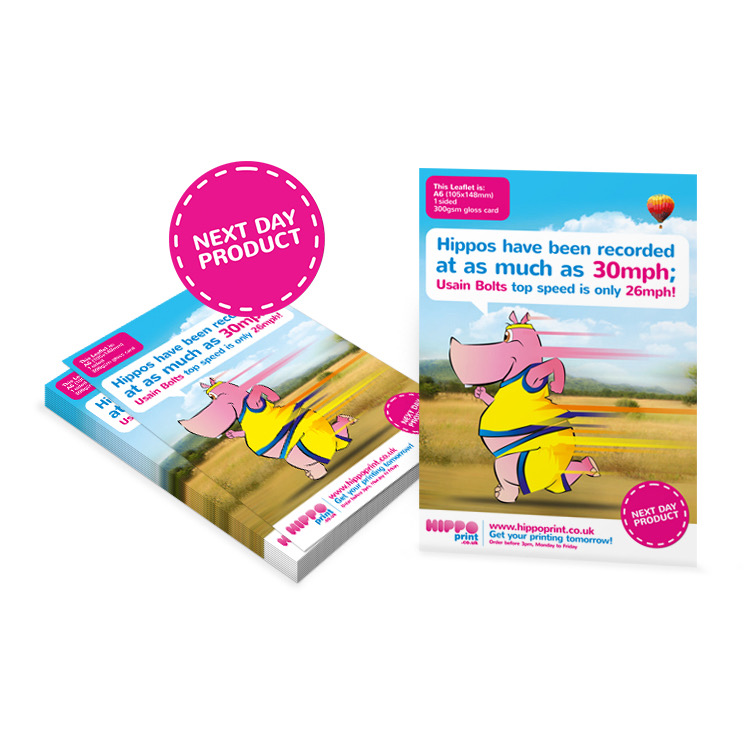 Leaflets
Next day leaflets give you your leaflets when you need them most – tomorrow! If you have a special event, last minute meeting, or other urgent need for leaflets or flyers then Hippoprints next day leaflets and flyers are the ideal solution for you. Order by 3pm on a working day and Hippoprint will guarantee you that you will receive your flyers on the very next working day – or Saturday for a small premium.
The 130gsm gloss next day flyers are the ideal option for every day leafleting and are the most economical of the range. The 170gsm gloss next day leaflets are a heavier paper and feel that bit more substantial making them the perfect option for pamphlets or handouts that need a bit more impact. The 300gsm gloss next day flyers are printed on a light card stock to be even more substantial.
If you prefer, Hippoprint also offers next day matt leaflets (matte flyers) for a more subtle finish. So if you don?t want a glossy finish, but still need your pamphlets for tomorrow, make sure to order our next day matte leaflets.
You can have your next day leaflets creased or, creased and folded, if you need. Creasing makes it much easier to fold and improves the quality of the spine. You may choose to have them creased and folded by us reducing your time and effort, though if you are posting them out as batches or storing them for single call offs you might prefer just to have them creased.
Free next working day delivery available UK wide on all orders placed before 3pm on a working day.
We also offer Saturday delivery and timed delivery to most of mainland GB
There are no reviews for this product.
Only logged in customers who have purchased this product may leave a review.