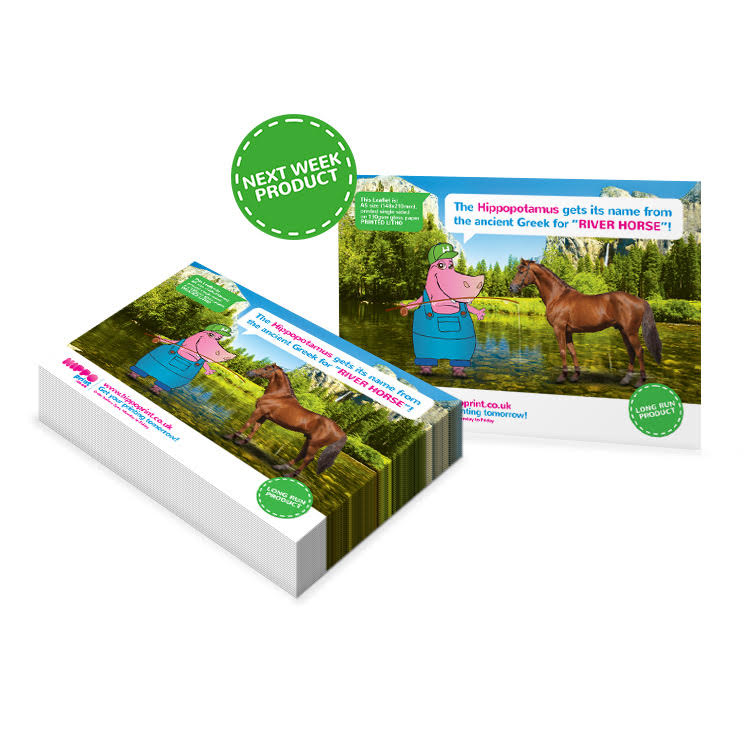 Next Week Leaflets
Long-run leaflets & flyers are the perfect way to cheaply promote your business to either a wide local market or a specific target market.  
These are perfect for promoting your business whether at point of sale, through mail shots or by door to door distribution.  
The 130gsm gloss leaflets are ideal for every day leafleting and are the industry standard for budget flyers – the majority of the leaflets you receive through your letterbox will be like these.  Should you wish to add a bit more impact you may consider upping the weight of the paper to a heavy paper (170gsm gloss) or even to a card stock (300gsm gloss).  Either of these options will make posting through doors easier and lend the leaflets a bit more of a wow factor.  If you are looking for leaflets for point of sale or exhibitions then 170gsm gloss is normally the best paper option though 300gsm is a light card and as such has a more rigid feel to it.  For flyering directly to potential customers on the streets, A6 300gsm is generally the most popular option as it is more substantial than the lighter paper stocks – bars and clubs tend to use these flyers for promoting their services.
If you need leaflets printing fast for an exhibition, an opening or any other last minute event then Hippoprints fast leaflet printing  service is ideal for you. 
Don't see what you are looking for, or want something clarifying, then please do not hesitate to contact us
Free delivery included, turnaround time on next week products is around 5-10working days depending on product and quantity, if you have a specific deadline date, please contact us before placing your order.
There are no reviews for this product.
Only logged in customers who have purchased this product may leave a review.