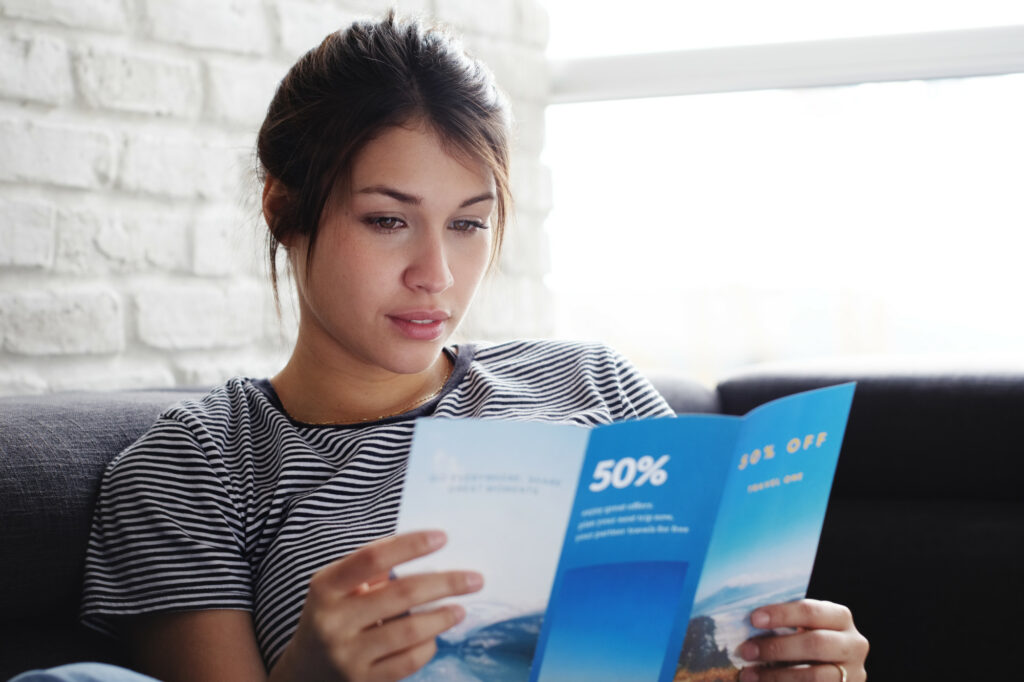 One survey found that over 45% of people report keeping leaflets on a pinboard or in a kitchen drawer. It's not surprising, then, that an effective leaflet can be a great marketing tool for small businesses.
That answers your question of whether business leaflets are still relevant today. But what makes a good leaflet? And how do you design one that will stand out and get noticed?
We have some unique leaflet ideas for you. Here are some tips to help you get started. But first, let's discuss a few more why leaflets are still important for your small business.
What Is a Leaflet?
A leaflet is essentially a mini-poster or flyer. It's a single sheet of paper, usually printed on both sides, that's designed to be handed out or displayed in a public place.
Traditionally, leaflets have been used for marketing purposes, but they can also be used for informational purposes. For example, you might see a leaflet for a local event or a charity campaign.
The Benefits of Leaflets for Small Businesses
There are several reasons why you should consider designing a leaflet for your small business. Let's take a look at some of the most important benefits.
They're Inexpensive to Produce
One of the main advantages of leaflets is that they're very inexpensive to produce. You can easily print them in-house using a home printer or take them to a local print shop.
They're Versatile
Leaflets are also versatile. You can use them for a wide range of marketing activities, such as product promotion, brand awareness, and event promotion.
They're Targeted
Leaflets allow you to target a specific audience with your marketing message. For example, if you own a pet store, you could distribute leaflets in local vets' waiting rooms.
They're Measurable
It's easy to track the success of your leaflet campaign. For example, you could include a coupon or special offer to encourage people to visit your store.
They're Tangible
Another advantage of leaflets is that they're tangible. Unlike digital marketing, people can touch and feel them. This makes them more likely to remember your brand and your marketing message.
Let's take a look at some tips for designing an effective leaflet.
Keep It Simple
Your leaflet should be easy to understand at a glance. Use clear, concise language and visual hierarchy to guide the reader's eye through the content. Don't overwhelm the recipient of your leaflet with too many words or too much information.
Make each leaflet about one topic or promotion, and design it with a simple, single-minded message. The best leaflets are clear and to the point.
Use Strong Visuals
Use strong visuals to add impact and grab attention. People are visual creatures, and we're more likely to remember things that we see rather than things that we read.
Make sure your leaflet design is visually appealing and easy to understand. Use strong images and clear, concise text to get your message across.
Think about the overall look and feel of your leaflet. Is it modern and stylish? Or traditional and classic? The tone of your leaflet should match the tone of your business.
Be Creative
Be creative with your leaflet design to make it stand out from the crowd. Think about different ways to use layout, colour, and images to create an eye-catching design.
If you're not sure where to start, take a look at some leaflet design inspiration online. You can also hire a professional graphic designer to help you with your leaflet design.
Printing and Distribution
Once you've designed your leaflet, it's time to think about printing and distribution. If you're distributing your leaflets in person, make sure they're printed on high-quality paper, so they look professional and make a good impression.
If you're mailing your leaflets, choose a size that fits comfortably into an envelope. And if you're hand-delivering your leaflets, consider using a die-cut shape to make them more eye-catching.
When it comes to distribution, think about your target audience and where they'll be. Are there any local events or community centres where you can distribute your leaflets? You can also leave them in high-traffic areas like coffee shops, libraries, and supermarkets.
Where To Distribute Your Leaflets
Apart from local events and coffee shops mentioned above, consider the following high-traffic areas:
Libraries
Universities and colleges
Local businesses
Supermarkets
Lifestyle centres
Airports
Railway stations
Bus terminals
But what about at your own events. Well, think about it – every business has some kind of event. It might be a grand opening, a trade show, a conference, or simply a sale. No matter what type of event you're hosting, leaflets can play an important role in its success.
For example, let's say you run a small hotel. You could use leaflets to:
Promote a special offer or discount
Give directions and information about your hotel
Introduce your staff and services
Encourage people to sign up for your loyalty program
No matter what type of business you have, there's a leaflet design out there that will perfectly suit your needs.
Get Your Leaflets Delivered Tomorrow
Leaflets are a quick and easy way to reach your target audience. With next-day printing and delivery, you can get your leaflets delivered as soon as tomorrow.
Hippo Print will print and deliver your leaflets, booklets, and business cards quickly and cheaply. We offer a wide range of printing options to suit your needs, and our experienced team can help you with every step of the process – from design to delivery.
Visit our website or give us a call today to get started on your leaflet project.