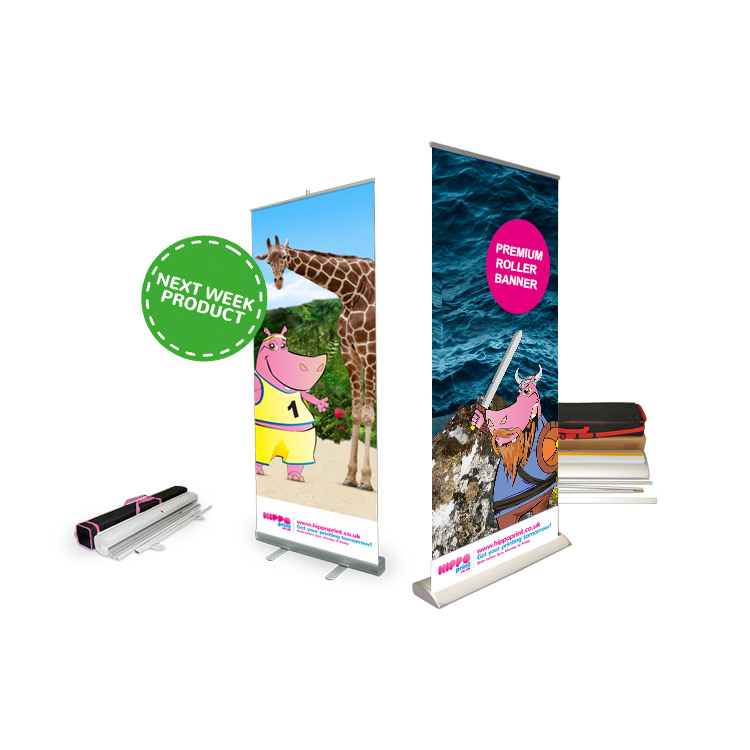 Next Week Roller Banner
Our roller banners are excellent for getting your message across to your customer – at 2m high or over by 800mm wide these quality stands can't fail to get noticed.
Popup banners make an excellent alternative to conventional exhibition stands if you do not have the time or resources to produce one but still want to have a presence at a trade show. Also called rollup banners or pull up banners, they are great for use in receptions or almost any indoor venue where you want a high impact stand alone message.
It is important to note that all of our roller banners are printed using light resistant inks that guarantee at least 3yrs of life in normal lighting conditions. Hippoprint only prints roller banners on a premium light block material and not standard banner vinyl, thus ensuring a high quality final product, that will not be affected by light coming through the display from the rear. Your roll up banner includes your design printed on premium light block material, assembled into its unit and a handy carry case.
Our standard roller banner is 800mm x 2000mm, and our premium roller banner is 800mm x 2200mm with a more substantial base
If you don't have a design we also offer a very fast turnaround professional graphic design service. Do you need your roller banners quicker, if so contact us now to see if we can help.
Free delivery included, turnaround time on next week products is around 5-10working days depending on product and quantity, if you have a specific deadline date, please contact us before placing your order.
There are no reviews for this product.
Only logged in customers who have purchased this product may leave a review.