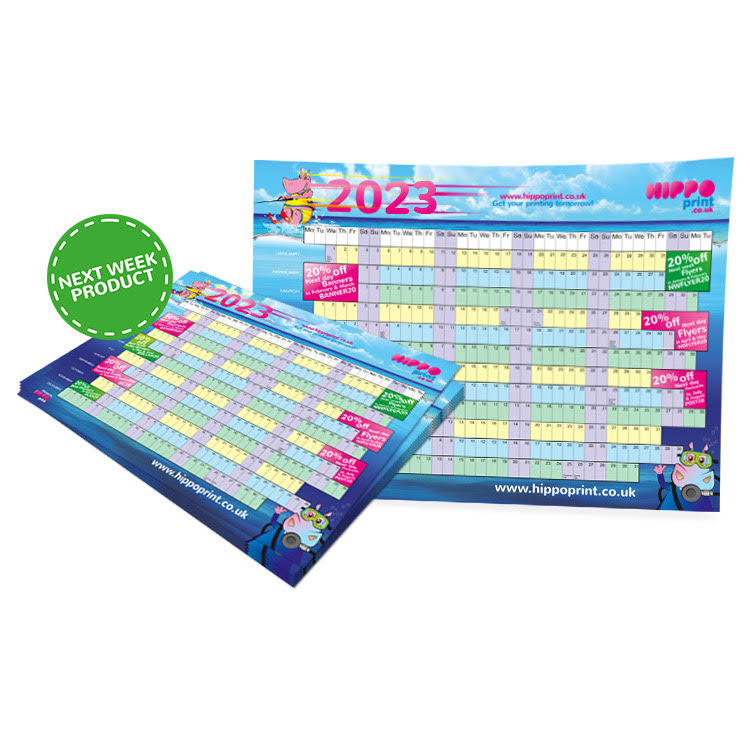 Next Week Year and Holiday Planners
A2 wall planners make for perfect giveaways for your clients, as they keep your branding and contact details in sight on a daily basis for the entire year.  Academic wall planners are a great way to market to students and parents alike, especially if combined with some relevant special offers or other targeted marketing.  If your school, university or other educational establishment, is looking for a year planner which is bespoke to its needs then Hippoprints year planners are perfect for you and suitable for resale to parents or students.
Hippoprint produces all of its A2 planners on 170gsm silk paper so that they are easy to write on with a standard ballpoint pen but still retain an attractive appearance.
If you choose the design option Hippoprint currently offers 3 different types of planner; the academic year planner, year planner and the staff holiday planner.  You can select any of these designs or 2 on a two sided version so your client can choose which they prefer.
You may select to have your planners flat or there are 2 folding options available; folded twice to A4 or one more time to A5.
A professional design using Hippoprints templates is charged at a fixed rate of £25 for 1 side or £35 for 2 sides.
Free delivery included, turnaround time on next week products is around 5-10working days depending on product and quantity, if you have a specific deadline date, please contact us before placing your order.
There are no reviews for this product.
Only logged in customers who have purchased this product may leave a review.