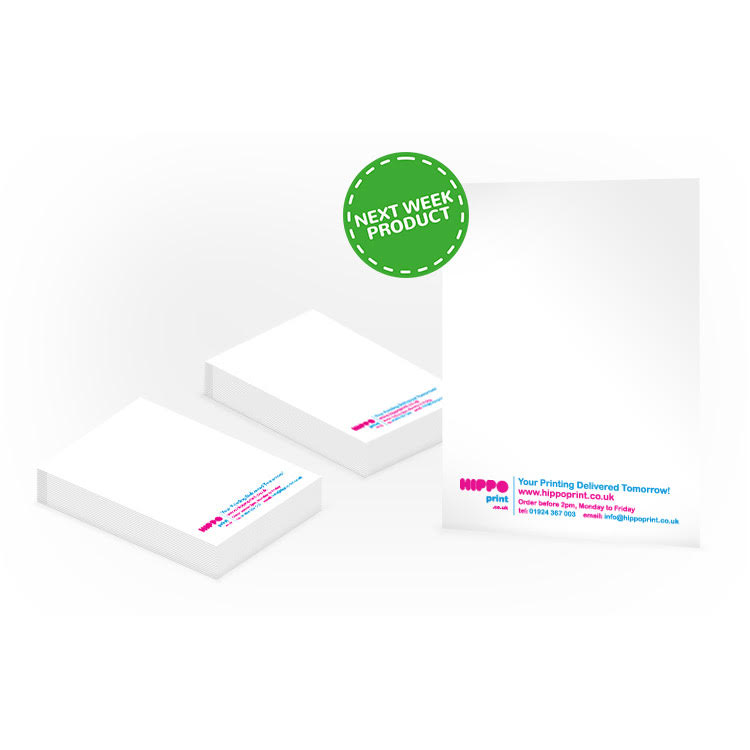 Next Week Note Pads
Hippoprints notepads and deskpads are printed in 1 colour, 2 colour or full colour on 80gsm white bond and make for the ideal budget promotional item.  Your bespoke scratchpads are printed to a high standard and glued at the head in your selected number of sheets with a backboard.  These make for excellent promotional gifts that your customers will be sure to love.  Use these quality bespoke printed A4 notepads when you are giving a presentation or as technical pads for site visits.
The personalised A6 notepads are ideal for carrying around in your pocket and making notes on the go.  The A3 printed deskpads are perfect for keeping on your desk to make notes and as each page pulls off easily you can use it as a message pad or just as a doodle pad. Don't see what you are looking for, or want something clarifying, then please do not hesitate to contact us .
Free delivery included, turnaround time on next week products is around 5-10working days depending on product and quantity, if you have a specific deadline date, please contact us before placing your order.
There are no reviews for this product.
Only logged in customers who have purchased this product may leave a review.