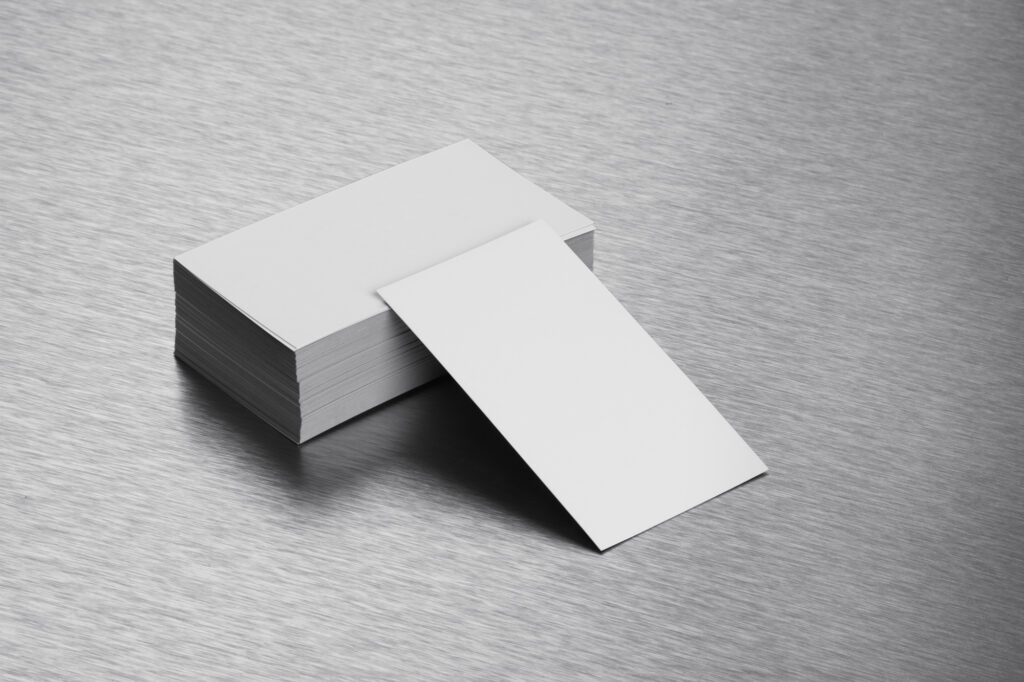 Did you know that someone can form a first impression of you in as little as 33 milliseconds?
People decide how they feel about you based on a lot of little cues. It can be your tone of voice, your clothing, or your posture. And if you're a businessman, it might be your business card designs.
There are all different types of business cards. It may seem overwhelming to choose the one that best reflects your industry. That's why we're here to help.
In this guide, we'll discuss the best business cards for your situation.
Types of Business Cards
The importance of a business card cannot be overlooked. Everything from the quality of the paper to the type of font conveys important information for first impressions. A drab business card with a standard font may work great in finance, but not for someone who tutors children.
Business card options should reflect the industry you work in. You want to convey professionalism but also appeal to the sensibilities of your audience.
Further, you probably want a business card made with premium materials. Customers should feel bad throwing it away if it seems high-quality.
The benefits of business cards range from an easy way to pass along contact information, to an advertising tactic. Understanding what role these cards fulfill will determine the design you choose.
Let's take a look at a few different types of business cards.
A Standard Business Card
If you just need a simple way to pass along contact information, this is probably best suited. You can put your name, address, phone number, and email. These business cards may include a brief list of services or a slogan.
These are the best business cards if you're on a budget. You can print hundreds of them at a lower cost, and give them away to whomever you desire.
If you're in a rush, you can even get these cards the next day. Using Hippo Prints Next Day Printing service guarantees your business cards will arrive for that last minute meeting or conference.
A Trade Business Card
If you work in a specific trade, this is a great option. You may want to communicate your credentials and experience. You may belong to a certain organization or group that has renowned standards.
A trade business card may serve as proof of your prowess. It may provide your client with further information to verify that you can do the job. Whatever the case, this is an easy one-and-done way to pass on your trade information.
An Influencer's Business Card
You may be an influencer, and therefore you know the importance of spreading your social media presence. You need people to view the products you're promoting. A business card can serve as a gateway for them to check you out online.
These cards focus less on address and contact, and more on big social media sites like Instagram and Twitter. They make it easy for someone to find and follow you.
These are a great way to amass a lot of new followers. All you have to do is hand out your cards to interested contacts. This is a more personal way of gaining followers, rather than following strangers and expecting them to follow you back.
Often, professionals will follow each other on LinkedIn or other platforms. This allows you to develop a robust network of like-minded individuals.
Business Card Materials
Business cards offer a lot of flexibility in materials and design. You can personalize them to your heart's content, and convey only the information that you feel is most relevant.
A Double-Sided Business Card
Double sides mean double the fun. If you need more space, you can use the second side to provide more information. Or you can use this to include a colourful illustration of your business and team.
If you are a professional working with a partner, this is a great way to give each person equal space. You can use the second side to list locations or provide an inspirational quote. The options are endless.
A Laminated Business Card
Sometimes, you need a business card that's long-lasting. Laminated business cards retain their design and colours, and are more impervious to damage. You can reuse them if you desire.
Laminated cards look glossy and professional. They'll make an impression on a customer since they're not just a piece of paper that they can throw away. They're great if your customers need something to stick to their fridge for contact information.
Get Your Business Cards Today
Business cards are an extension of your professional career. They're a short, to-the-point way of communicating your expertise and credentials. Choosing the right types of business cards can go a long way to building your reputation in your respective field.
Need 50, 100, or even a thousand business cards? Hippo Print has you covered. We have a wide variety of business card options and provide speedy printing.