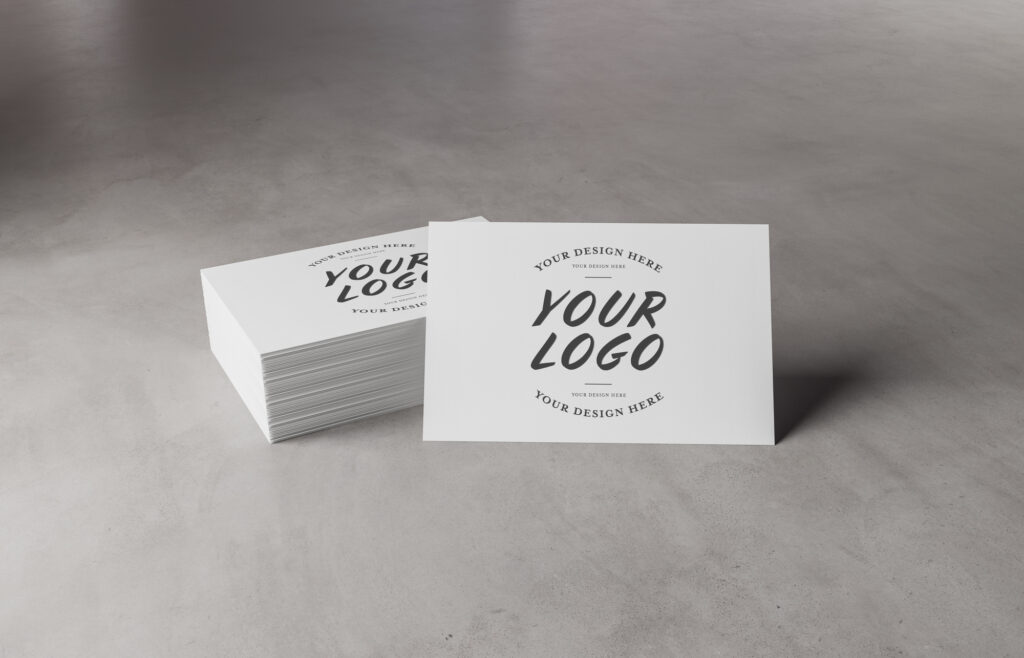 Did you know that 137,210 UK businesses have closed already in the first quarter of 2022? The world is facing unprecedented events, and businesses can suffer as a result. So, how do you make sure your company is one of the strong ones that stay in business?
One of the best ways to stay in play is to be known by your customers and generate leads. And one of the most tried and tested lead generation methods out there is the humble but mighty business card.
Our business card design ideas will help you generate the leads you're after. Business cards are an easy and cost-effective way to be remembered because they carry your company name, logo and colours. There's no denying the importance of business cards – they're professional, easy to use and a great conversation starter.
If you need ideas on what to print on your cards, then look no further. Check out how to design a business card that stands out from the crowd.
1. Interesting Typography
Typography is the use of words as art. Bold, eye-catching text styled in an artistic way will hint at your business ethos and personality.
This design style works no matter your industry. Choose a font that's clear and legible, and goes with your existing lettering. Look to your logo, company slogan or your website for inspiration.
2. High-Quality Images
Crystal-clear and in-focus images will lay out how professional your business is. Grainy or blurry pictures will make your business cards look like something you whipped up in MS Word… in the 90s. Don't be behind with the times.
Even an image snapped with your mobile phone will be high-quality and easy to crop. Or, you can find images online that will do the trick. Prepare your quality images for printing, and you'll have business cards that come out looking crisp and clean.
3. Let Your Pictures Do the Talking
Are you a dog groomer? Then say it with cute pictures of pups and a pair of scissors on your business cards.
Are you a painter and decorator? Then shout it from the rooftops with a tin of paint and a brush!
They say that pictures speak a thousand words, so employ this tool in your business marketing strategy. Pictures are easier to remember, so use them cleverly on in your business card advertising, and you'll be easier to conjure up in the future.
4. Colours Code With Your Business
Business cards are an extension of your company, so you need to use colours that will match, rather than clash. Of course, you don't need to stick to every single colour in your logo or website. But make sure the colours you choose will complement or contrast your current colours in a desirable way.
A great way to choose colours that work is by using a colour wheel. Choose colours next to each other for subtle changes in hue and tone. Or, choose colours opposite each other for a sharp contrast.
5. Make It a Keeper
Another way to make a memorable business card is to make it one they'll want to keep. Wallet-sized cards are popular because they're easy to slip into a customer's wallet or purse and carry with them. But there are other ways for your business cards to hang around.
Magnetic business cards will likely go straight on the fridge, and will be seen by everyone who visits that house. Or a practical business card, like one that doubles as a coaster, will be kept and used over and over again.
6. Your Paper Counts
When it comes to business card printing, the paper or card you print on will directly affect your business reputation. Thin, low-gsm paper or card will easily crease and tear – a bad signal to send out to a customer.
Rather, choose a thicker, more robust cardstock that won't be easily damaged. As we've said before, anything less than 300gsm will be too flimsy and will feel cheap. We prefer to use 330gms board as standard, for its strength, durability and professional finish.
7. Showcase Your Style
If you want to make an impression on the recipient, choose a business card design that lets your personality shine through. If you're a wordsmith, a cleverly-crafted phrase will pique the interest of your customers. If you're in a creative industry, using unique graphics and bold colours will show off your talent.
More than ever, customers want to make a connection with the businesses they interact with. So, let your business card add to that relationship by letting them know who you are.
8. Less Is More
The key to remember before you give the go-ahead to your business card printing team is to kill the clutter. Clever images, bold colours and snazzy sayings are great, but if they clutter your card and take up all your white space, they'll cramp your style.
Your business card is an introduction to your company and a way for them to remember you. Give them just a hint of what you do without drowning them in print.
Business Card Design Ideas for 2022
If you want to put together a business card this year, then our business card design ideas will help you on your way. Use bold fonts, crystal clear graphics, and pictures that speak a thousand words. Let your personality shine through, colour-coordinate with your business, and remember that less is more.
Follow these 8 tips for a great business card design, and you'll generate quality leads wherever you go.
If you want stunning, high-quality business cards, the team here at Hippoprint will get the job done. Contact us for your next day business cards today.