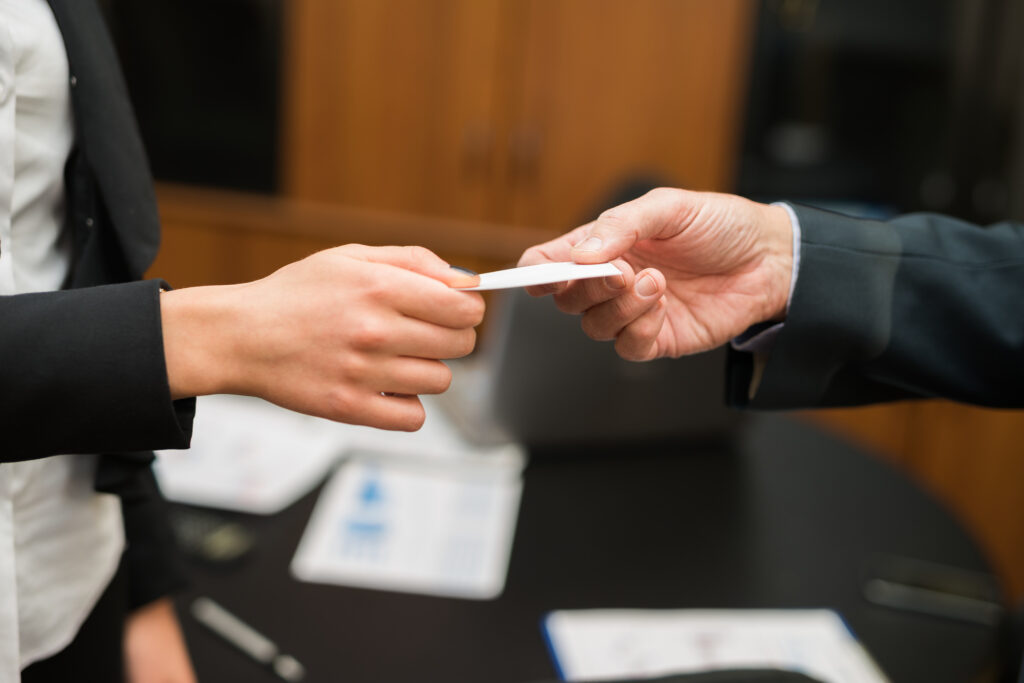 You might be wondering if business cards are still a necessary part of your print marketing strategy in this digital age.
The answer is yes! Business cards are more important than ever because they're a tangible way to represent your brand and make a great first impression. In fact, around 27 million business cards are printed worldwide every day!
A well-designed business card can help you stand out from the competition and leave a lasting memory with potential clients.
Keep reading to find out how business cards can promote your business and strongly impact prospective clients and customers.
Why Business Cards Are Still a Necessary Part of Print Advertising
Business cards are a powerful marketing tool. Firstly, it is a quick and easy way to get your contact information into someone's hands and leave an impression on potential clients at business networking events.
Additionally, business cards can help you stand out from the competition. With so many businesses competing for attention, it's crucial to find ways to make your company stand out. Well-designed and high-quality cards can be a simple and effective way to do this.
Finally, business cards are a tangible reminder of your company. Potential customers may not remember your exact services, but they will remember that you gave them a business card. It shows that you've taken the time to create something unique and personalized, which can go a long way in building rapport with potential clients.
How to Use Business Cards for Networking
Business cards are an essential tool for networking. They provide a quick and easy way to exchange contact information, and they also serve as a mini-billboard for your business.
When used correctly, business cards can help you build relationships and grow your business. Marketing is a numbers game, and statistics show that for every 2,000 cards handed out, sales for a business can increase by 2.5%.
Here are a few tips for using your business card effectively:
Be sure to use proper business card etiquette. This means making sure the card is clean and free of any folds or creases. It should also be placed face-up on the table when exchanging cards.
Invest in high quality, laminated business cards. This will make your card more durable and memorable.
Use your business card as a conversation starter. Be prepared to talk about your business and what you do.
Follow up with the people you meet. Send an email or call them within a few days of meeting them. Building rapport is essential in business networking.
By following these tips, you can make the most of your business cards and use them to network with potential clients and customers effectively.
How to Design Your Business Card for Maximum Impact
Your business card is often the first impression you make on a potential client or customer, so it's essential to design it carefully. Make sure to invest some time and money in creating your business card. If you are not artistically inclined, consider hiring a graphics designer that specialises in business card design.
Around 88% of business cards are thrown out within a week. If your card is a higher grade than the rest, it's less likely to end up in the bin simply because it's too lovely to throw out.
Here are some guidelines for designing top-notch business cards that stand out from the rest:
Use high-quality paper. Thick, glossy paper conveys professionalism and quality.
Keep it simple. A busy or cluttered card can be difficult to read and hard to remember. Stick to a clean, minimalist design.
Make sure your contact information is correct and easy to find. Include your name, title, company name, website, phone number, and email address.
Use colours and images sparingly. Too much colour can be overwhelming, and images should be relevant to your business or brand.
Consider adding a QR code. Many businesses use QR Codes to give potential customers quick and easy access to more information about their company or services. QR codes can link potential customers to your website or online portfolio with just a few clicks.
Keeping to these guidelines, you can create a company card that will entice prospective customers and set you apart from the crowd.
How to Carry Out Appropriate Business Card Etiquette
Business cards are a helpful tool for networking and building relationships. However, there is an etiquette to using them effectively.
Most importantly, never leave home without taking some with you, and take more with you than you think you need. You never know when you might need to give one out. Always having a business card to give makes you look prepared and professional.
When exchanging business cards or presenting cards, make sure you can easily access your cards and show them so that the recipient can read them easily. It is also considered polite to study the card information of any cards you receive for a moment before tucking it away. This shows that you are interested in the person and their business.
Additionally, it is important not to write on someone's business card in their presence – if you need to make a note, do so after the exchange.
These simple etiquette tips will help you make a positive impression when exchanging business cards.
Now That You Know How Essential Business Cards Are Get Yours Printed Now
Business cards are an effective and fantastic method to promote your company and make an impact on potential customers or clients.
Using the tips and guidelines in this article, you can use business cards to help you network effectively and grow your business.
Got a business card design ready and need urgent printing?
Get your business cards delivered the next working day with HippoPrint. We guarantee next day delivery on all orders submitted with print-ready artwork and completed by 3 pm.
Hurry and get started on your business cards today to make an impact and win new customers and clients!